International Conference: Active Universe
Devoted to the 60th anniversary of BAO
September 1-3, 2006, Byurakan, Armenia
The meeting was devoted to the 60th anniversary of the Byurakan Observatory and the scientific topics related to the works having carried out at BAO. The meeting was opened by the President of the Armenian Academy of Sciences Prof. Radik Martirosyan, followed by a review talk by the Director of BAO Haik Harutyunian on the "Brief History of the BAO". The First Byurakan International Summer School was also devoted to the 60th anniversary of BAO and was linked to this conference and almost all the school lecturers and students could also participate. The ArAS V Annual Meeting was also associated with this conference.

Scientific Organizing Committee (SOC): Haik Harutyunian (Chair)

Local Organizing Committee (LOC): Norair Melikian (Chair)

Scientific Topics:

72 scientists from 14 countries (Armenia, USA, Mexico, Germany, France, Italy, Spain, Serbia, Hungary, Romania, Jordan, Russia, Ukraine, and Georgia) participated, including such famous astronomers as Daniel Weedman (USA), Dieter Engels (Germany), Georges Alecian (France), Vladimir Grinin and Vsevolod Ivanov (Russia), Lajos Balazs (Hungary), and others. Altogether, 26 talks were presented, 13 of which by Armenian scientists.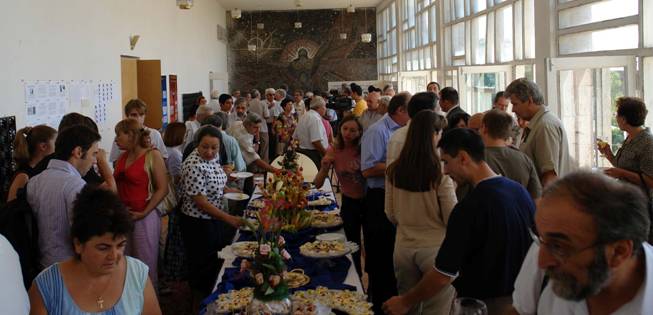 Full list of participants
Abrahamian Martin G., Yerevan State University (YSU), Armenia
Adibekyan, Vardan, Yerevan State University (YSU), Armenia
Alecian George, Observatoire de Paris-Meudon, France
Arshakian Tigran G., Max-Planck-Institut fuer Radioastronomie, MPIfR, Bonn, Germany
Avetissian Ara K., Yerevan State University (YSU), Armenia
Balazs Lajos G., Konkoly Observatory, Hungary
Bon, Edi, University of Belgrade, Serbia
Boutsia, Konstantina, Universita di Roma "La Sapienza", Italy
Bufano, Filomena, Universita di Padova, Italy
Chavushian Hovsep S., Byurakan Astrophysical Observatory, Armenia
Chubko, Larissa, Kiev Astronomical Observatory, Ukraine
Claudi, Riccardo, Osservatorio Astronomico di Padova, Italy
Dodonov, Sergei N., Special Astrophysical Observatory, Russia
Engels, Dieter, Hamburger Sternwarte, Germany
Erastova Lidia K., Byurakan Astrophysical Observatory, Armenia
Eristian Misak H., Byurakan Astrophysical Observatory, Armenia
Gavrilovic, Natasa, University of Belgrade, Serbia
Ghazaryan, Satenik A., B.Sc. student, Yerevan State University, Armenia
Grinin Vladimir P., Pulkovo Astronomical Observatory, St. Petersburg, Russia
Gyulbudaghian Armen L., Byurakan Astrophysical Observatory, Armenia
Hakobyan, Artur A., Byurakan Astrophysical Observatory, Armenia
Hambaryan, Valeri V., Astrophysicalisches Institut Potsdam (AIP), Germany
Harutyunian Haik A., Byurakan Astrophysical Observatory, Armenia
Harutyunyan, Avet H., Universita di Padova, Italy
Hovhannessian, Elena R., Byurakan Astrophysical Observatory, Armenia
Hovhannessian, Rafik Kh., Byurakan Astrophysical Observatory, Armenia
Hovhannisyan, Lilit R., Byurakan Astrophysical Observatory, Armenia
Iskudarian Sofik G., Byurakan Astrophysical Observatory, Armenia
Israelian, Garik L., Instituto de Astrofisica de Canarias (IAC), Spain
Ivanov Vsevolod V., St. Petersburg State University, Russia
Ivanova Nina L., Byurakan Astrophysical Observatory, Armenia
Ivashchenko, Ganna, Kyiv National Shevchenko University, Ukraine
Jankovich Ishtvan, Gothard Observatory, Hungary
Kalloghlian Arsen T., Byurakan Astrophysical Observatory, Armenia
Kapanadze, Bidzina, Abastumani Astrophysical Observatory, Georgia
Karapetian Emilya, Yerevan State University (YSU), Armenia
Khachikian Edward Ye., Byurakan Astrophysical Observatory, Armenia
Khassawneh, Awni Mohammed Saleh, Bajat University, Jordan
Kochiashvili, Ia, Tbilisi State University, Georgia
Kostandyan, Gayane R., Byurakan Astrophysical Observatory, Armenia
Kostogryz, Nadiya, Main Astronomical Observatory, Ukraine
Krikorian, Ralph, Institut d'Astrophsyique de Paris, France
Lamzin Sergei A., Sternberg Astronomical Institute (SAI), Moscow, Russia
Magakian Tigran Yu., Byurakan Astrophysical Observatory, Armenia
Malumian Vigen H., Byurakan Astrophysical Observatory, Armenia
Melikian Norair D., Byurakan Astrophysical Observatory, Armenia
Melkonian, Andranik, Byurakan Astrophysical Observatory, Armenia
Mickaelian, Areg M., Byurakan Astrophysical Observatory, Armenia
Moiseev, Aleksei V., Special Astrophysical Observatory, Russia
Movsessian Tigran H., Byurakan Astrophysical Observatory, Armenia
Navasardyan, Hripsime Kh., Universita di Padova, Italy
Navasardyan, Tatevik, Yerevan State University, Armenia
Nikoghossian Arthur G., Byurakan Astrophysical Observatory, Armenia
Nikoghossian Elena H., Byurakan Astrophysical Observatory, Armenia
Paronyan, Gurgen, Yerevan State University, Armenia
Parsamian Elma S., Byurakan Astrophysical Observatory, Armenia
Petrosyan Gohar, Yerevan State University (YSU), Armenia
Poltorak, Sergey, Moscow Institute of Physics and Technology, Russia
Prugniel, Philippe, Observatoire de Lyon, CRAL, France
Rossi, Corinne, Universita di Roma "La Sapienza", Italy
Sadoyan, Avetis A., Yerevan State University, Armenia
Sanamian Vagharshak A., Byurakan Astrophysical Observatory, Armenia
Sargsyan, Lusine A., Byurakan Astrophysical Observatory, Armenia
Savos, Raoul, Astronomical Observatory of Cluj-Napoca, Romania
Sedrakian Davit M., Yerevan State University, Armenia
Sedrakyan, Levon, Yerevan State University, Armenia
Sinamyan, Parandzem K., Byurakan Astrophysical Observatory, Armenia
Smirnova, Aleksandrina, Special Astrophysical Observatory, Russia
Tovmassian Gagik H., UNAM, Mexico
Vincze Ildiko, Gothard Observatory, Hungary
Vovk, Yevgen, Kyiv National Shevchenko University, Ukraine
Weedman, Daniel W., Cornell University, Ithaca, NY, USA