Flare Stars, Fuors, and Herbig-Haro Objects
Symposium of the Multilateral Research Cooperation of the Academies of Sciences of the Socialist Countries on the Problem of "Stellar Physics and Evolution"
May 22-24, 1979, Byurakan, Armenia
This was the third symposium, organized by the Commission of Multilateral Research Cooperation of the Academies of Sciences of the Socialist Countries on the Problem of "Stellar Physics and Evolution".

Representatives of all cooperating countries participated in the symposium. In all there were 72 participants, including 19 from the Byurakan Observatory, 1 from the Yerevan State University, 29 from other republics of the USSR and 23 from 6 foreign countries (Bulgaria, Romania, Poland, Hungary, DDR, and Czechoslovakia).

Scientific Organizing Committee (SOC): V.A. Ambartsumian (USSR, Chairman), A.A. Boyarchuk (USSR), A.L. Gyulbudaghian (USSR), O.A. Dluzhnevskaya (USSR), W. Wenzel (DDR), C. Cristescu (Romania), L.V. Mirzoyan (USSR), M.D. Popova (Bulgaria), J. Smak (Poland), J. Tremko (Czechoslovakia), and I. Jankovich (Hungary).

Local Organizing Committee (LOC):

Topics:
Flare Stars and T Tauri-Type Stars
Fuors and Fuor-Like Objects
Herbig-Haro Objects and Cometary Nebulae
Other Problems, Connected with Non-Stable Objects
48 talks were presented at the symposium, including 12 by the Byurakan astronomers, mainly containing new results of observations and theories on mentioned objects, interesting for study of early stages of stellar evolution.

Proceedings: Flare Stars, Fuors and Herbig-Haro Objects, Ed. L.V. Mirzoyan, Academy of Sciences of Armenian SSR, Yerevan 1980, 328 p. (in Russian).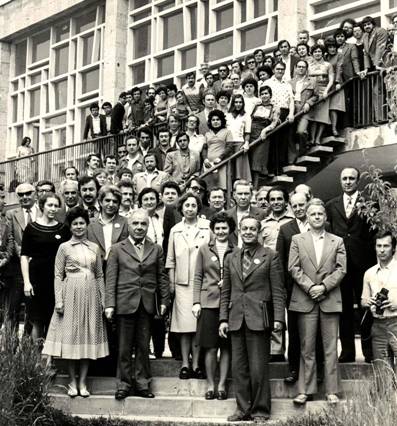 Full List of Participants
Alania I.F., Abastumani Astrophyiscal Observatory, Georgia, USSR
Ambartsumian V.A., Byurakan Astrophysical Observatory (BAO), Armenia, USSR
Bartaya R.A., Abastumani Astrophyiscal Observatory, Georgia, USSR
Boyarchuk A.A., Crimean Astrophysical Observatory (CrAO), USSR
Cherepashchuk A.M., State Astronomical Institute (GAISh), Moscow, USSR
Chugainov P.F., Crimean Astrophysical Observatory (CrAO), USSR
Cristescu C., Astronomical Observatory of Acad. Sci., Bucharest, Romania
Dluzhnevskaya O.B., Astronomical Council, Moscow, USSR
Efimov Yu.S., Crimean Astrophysical Observatory (CrAO), USSR
Fyodorova A.V., Astronomical Council, Moscow, USSR
Gershberg R.E., Crimean Astrophysical Observatory (CrAO), USSR
Glushkov Yu.M., Astrophysical Institute of the Kazakhstan Acad. Sci., Alma-Ata, Kazakhstan
Grinin V.P., Crimean Astrophysical Observatory (CrAO), USSR
Gut G., Zonneberg Observatory, Central Astrophysical Institute of Acad. Sci., GDR
Gyulbudaghian A.L., Byurakan Astrophysical Observatory (BAO), Armenia, USSR
Harutyunian H.A., Byurakan Astrophysical Observatory (BAO), Armenia, USSR
Ismailov Z.A., Shemakhi Astrophysical Observatory, USSR
Jankovich I., Astronomical Institute of the Hungarian Acad. Sci., Budapest, Hungary
Kanio S., Astronomical Institute of the Hungarian Acad. Sci., Budapest, Hungary
Kazarian M.A., Department of Astrophysics, Yerevan State University, USSR
Khachikian E.Ye., Byurakan Astrophysical Observatory (BAO), Armenia, USSR
Khadrava P., Astronomical Institute, Acad. Sci., Prague, Czechoslovakia
Kilyachkov N.N., Astronomical Institute of the Acad. Sci. of Uzbekistan, Tashkent, USSR
Kolotilov E.A., Southern Station of SAI (GAISh), Moscow University, Crimea, USSR
Krainer I., Astronomical Observatory, Jagelonnian University, Krakov, Poland
Kun M., Astronomical Institute of the Hungarian Acad. Sci., Budapest, Hungary
Magakian T.Yu., Byurakan Astrophysical Observatory (BAO), Armenia, USSR
Markarian B.E., Byurakan Astrophysical Observatory (BAO), Armenia, USSR
Meinunger L., Sonneberg Observatory, Central Astrophysical Institute of Acad. Sci., GDR
Melik-Alaverdian Yu.K., Byurakan Astrophysical Observatory (BAO), Armenia, USSR
Melkonian A.S., Byurakan Astrophysical Observatory (BAO), Armenia, USSR
Mirzoyan L.V., Byurakan Astrophysical Observatory (BAO), Armenia, USSR
Mnatsakanian M.A., Byurakan Astrophysical Observatory (BAO), Armenia, USSR
Natsvlishvili R.Sh., Abastumani Astrophyiscal Observatory, Georgia, USSR
Nersessian S.E., Byurakan Astrophysical Observatory (BAO), Armenia, USSR
Nikoghossian A.G., Byurakan Astrophysical Observatory (BAO), Armenia, USSR
Ohanian G.B., Byurakan Astrophysical Observatory (BAO), Armenia, USSR
Ola K., Astronomical Institute of the Hungarian Acad. Sci., Budapest, Hungary
Oskanian A.V., Jr, Byurakan Astrophysical Observatory (BAO), Armenia, USSR
Oskanian V.S., Byurakan Astrophysical Observatory (BAO), Armenia, USSR
Parsamian E.S., Byurakan Astrophysical Observatory (BAO), Armenia, USSR
Pashchenko M.I., State Astronomical Institute (GAISh), Moscow, USSR
Petrosian V.M., Byurakan Astrophysical Observatory (BAO), Armenia, USSR
Petrov P.P., Crimean Astrophysical Observatory (CrAO), USSR
Pogodin M.A., Principal Astronomical Observatory, Pulkovo, USSR
Popova M.D., Astronomy Section & National Astronomical Observatory of the Bulgarian Acad. Sci., Sofia, Bulgaria
Pugach A.F., Principal Astronomical Observatory of Ukraine, Goloseevo, USSR
Raikova D., Astronomy Section & National Astronomical Observatory of the Bulgarian Acad. Sci., Sofia, Bulgaria
Rossiger Z., Sonneberg Observatory, Central Astrophysical Institute of Acad. Sci., GDR
Rucinski S.M., Astronomical Observatory, Warsaw University, Poland
Rudnitski G.M., State Astronomical Institute (GAISh), Moscow, USSR
Rustamov B.N., Shemakhi Astrophysical Observatory, USSR
Sabodosh L., Astronomical Institute of the Hungarian Acad. Sci., Budapest, Hungary
Seidl B., Astronomical Institute of the Hungarian Acad. Sci., Budapest, Hungary
Shakhovskaya N.I., Crimean Astrophysical Observatory (CrAO), USSR
Shanin G.I., Astronomical Institute of the Acad. Sci. of Uzbekistan, Tashkent, USSR
Shcherbakov A.G., Crimean Astrophysical Observatory (CrAO), USSR
Shevchenko V.S., Astronomical Institute of the Acad. Sci. of Uzbekistan, Tashkent, USSR
Smak J., Institute of Astronomy of Acad. Sci., Warsaw, Poland
Sobolev V.V., Astronomical Observatory, Leningrad State University, USSR
Starikova G.A., State Astronomical Institute (GAISh), Moscow, USSR
Stepien K., Institute of Astronomy, Warsaw University, Poland
Szecsenyi-Nagy G., Astronomical Department, Lorand Eotvos University, Konkoly Obs., Budapest, Hungary
Tovmassian H.M., Byurakan Astrophysical Observatory (BAO), Armenia, USSR
Tremko J., Astronomical Institute of Slovak Acad. Sci., Tatranska Lomnica, Czechoslovakia
Tsvetkov M.K., Astronomy Section & National Astronomical Observatory of the Bulgarian Acad. Sci., Sofia, Bulgaria
Tutukov A.V., Astronomical Council, Moscow, USSR
Ureke V., Astronomical Institute, Cluj University, Romania
Wenzel W., Zonneberg Observatory, Central Astrophysical Institute of Acad. Sci., GDR
Zaitseva G.V., Southern Station of SAI (GAISh), Moscow University, Crimea, USSR
Zalinian V.P., Byurakan Astrophysical Observatory (BAO), Armenia, USSR
Zyulkovski J., Institute of Astronomy of Acad. Sci., Warsaw, Poland