IAU Symposium #137: Flare Stars in Star Clusters, Associations, and the Solar Vicinity
October 23-27, 1989, Byurakan, Armenia
IAU Symp 137 was the first scientific meeting under the IAU aegis, convoking together the scientists, engaged in the investigation of UV Ceti stars in Solar vicinity (physical study of flare stars) and flare stars, which form a part of star clusters and associations (evolutionary study of flare stars).

Scientific Organizing Committee (SOC): V.A. Ambartsumian (USSR, chairman), P.F. Chugainov (USSR), D.S. Evans (USA), G. Haro (Mexico), I. Jankovics (Hungary), K. Kodaira (Japan), L.V. Mirzoyan (USSR), B.R.J. Petersen (Norway), L. Rosino (Italy), M.K. Tsvetkov (Bulgaria).

Local Organizing Committee: Ludwik V. Mirzoyan (Chair), Valeri V. Hambaryan (Secretary).

Scientific Topics:
Flare Stars in Systems and Solar Vicinity
Related Objects (T Tauri Stars, Fuors, Herbig-Haro Objects, etc.)
Theoretical Problems and Interpretation of Observations
93 scientists from 17 countries (USSR, USA, Canada, Japan, UK, France, Italy, Greece, Netherlands, Switzerland, FRG, DDR, Bulgaria, Sweden, Hungary, Poland, and Norway) participated in the symposium, including 40 foreign, 20 from the other republics of the USSR, and 33 from Armenia.

Altogether 70 contributions were presented, including 8 invited reviews on the invitation of the SOC of the Symposium (by L.V. Mirzoyan, K.R. Lang, V.A. Ambartsumian, G.F. Gahm, B. Reipurth, V.P. Grinin, C.J. Lada, and M. Rodono), 42 oral reports, and 20 posters.

It is to be mentioned, that the evolutionary status of flare stars was established in the Byurakan Observatory on the base of investigations of these stars in star clusters and associations. These investigations was based on vast photographic observations of flare stars in these systems, carried out in the observatories of many countries, first of all in Mexico, Italy, and USSR.

Carrying out of the IAU Symposium 137 in Byurakan was recognition of the great contribution of BAO to the investigation of flare stars.

Proceedings: Flare Stars in Star Clusters, Associations, and the Solar Vicinity, Eds. L.V. Mirzoyan, B.R. Pettersen, & M.K. Tsvetkov, Kluwer Academic Publishers, Dordrecht, The Netherlands, 1990, 410 p. (in English).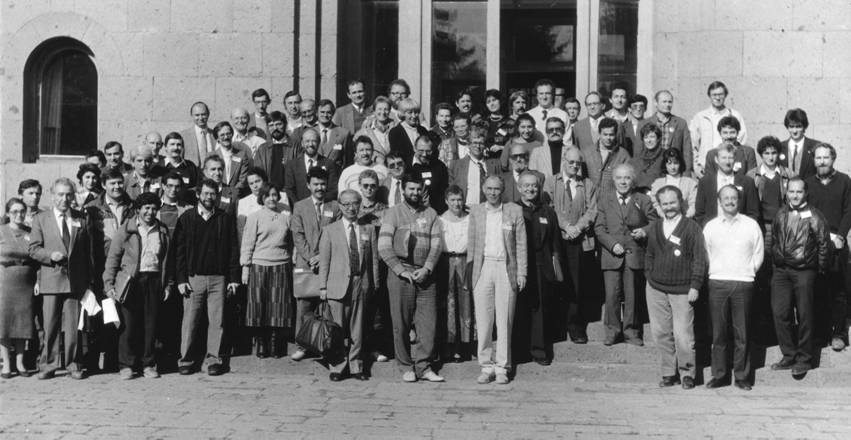 Full List of Participants
V.S. Airapetian, Byurakan Astrophysical Observatory (BAO), USSR
V.A. Ambartsumian, Byurakan Astrophysical Observatory (BAO), USSR
R.R. Aniol, Astronomical Institute, Munster, FRG
A. Antov, National Astronomical Observatory, Bulgaria
I.J. Appenzeller, Heidelberg, FRG
P. Bastien, Montreal Observatory, Canada
A.O. Benz, Institute Astron,Switzerland
A.V. Berdyugin, Crimean Astrophysical Observatory (CrAO), USSR
A. Blaauw, Kapteyn Laboratory, Holland
N.I. Bondar, Crimean Astrophysical Observatory (CrAO), USSR
G.E. Bromage, Rutherford Laboratory, UK
G.H. Broutian, Byurakan Astrophysical Observatory (BAO), USSR
Ch.J. Butler, Armagh Observatory, UK
H.S. Chavushian, Byurakan Astrophysical Observatory (BAO), USSR
P.F. Chugainov, Crimean Astrophysical Observatory (CrAO), USSR
J.G. Doyle, Armagh Observatory, UK
H.W. Duerbeck, Astronomical Institute, Munster, FRG
R.A. Epremian, Byurakan Astrophysical Observatory (BAO), USSR
G.F. Gahm, Stockholm Observatory, Sweden
A.T. Garibjanian, Byurakan Astrophysical Observatory (BAO), USSR
L.G. Gasparian, Byurakan Astrophysical Observatory (BAO), USSR
R.E. Gershberg, Crimea Observatory, USSR
M.S. Giampapa, Nat. Solar Observatory, USA
W. Gotz, Sonneberg Observatory, DDR
V.P. Grinin, Crimean Astrophysical Observatory (CrAO), USSR
A.L. Gyulbudaghian, Byurakan Astrophysical Observatory (BAO), USSR
V.V. Hambaryan, Byurakan Astrophysical Observatory (BAO), USSR
H.A. Harutyunian, Byurakan Astrophysical Observatory (BAO), USSR
W. Herbst, Van Vleck Observatory, USA
P.M. Herouni, Radiomeas. Institute, USSR
A. Hojaev, Tashkent Astronomical Institute, USSR
R.Kh. Hovhannessian, Byurakan Astrophysical Observatory (BAO), USSR
M.A. Ibrahimov, Tashkent Astronomical Institute, USSR
I.V. Iljin, Crimean Astrophysical Observatory (CrAO), USSR
K. Ishida, Kiso Observatory, Japan
I. Jankovics, Konkoly Observatory, Hungary
A.T. Kalloghlian, Byurakan Astrophysical Observatory (BAO), USSR
R.A. Kandalian, Byurakan Astrophysical Observatory (BAO), USSR
A.A. Karapetian, Byurakan Astrophysical Observatory (BAO), USSR
M.M. Katsova, Sternberg Astronomical Institute (GAISh), USSR
J. Kelemen, Konkoly Observatory, Hungary
E.Ye. Khachikian, Byurakan Astrophysical Observatory (BAO), USSR
R. Konstantinova-Antova, National Astronomical Observatory, Bulgaria
J. Krelowski, Copernicus University, Poland
R.A. Krikorian, LAT Institute Astronomy, France
Ch.J. Lada, Steward Observatory, USA
K.R. Lang, Tufts University, USA
M.A. Livshits, Institute of Terrestrial Magnetism, USSR
M.N. Lovkaja, Crimean Astrophysical Observatory (CrAO), USSR
R. Luthardt, Sonneberg Observatory, DDG
T.Yu. Magakian, Byurakan Astrophysical Observatory (BAO), USSR
L.I. Matveenko, Space Research Institute (IKI), USSR
N.D. Melikian, Byurakan Astrophysical Observatory (BAO), USSR
A.S. Melkonian, Byurakan Astrophysical Observatory (BAO), USSR
E. Menchenkova, Odessa Observatory, USSR
A.L. Mirzoyan, Byurakan Astrophysical Observatory (BAO), USSR
L.V. Mirzoyan, Byurakan Astrophysical Observatory (BAO), USSR
A.S. Mitskevich, Crimean Astrophysical Observatory (CrAO), USSR
M.A. Mnatsakanian, Byurakan Astrophysical Observatory (BAO), USSR
T. Montmerle, CEA, Saclay, France
Z.M. Mouradian, Paris-Meudon Observatory, France
T.A. Movsessian, Byurakan Astrophysical Observatory (BAO), USSR
R.M. Muradian, Byurakan Astrophysical Observatory (BAO), USSR
R.Sh. Natsvlishvili, Abastumani Astrophysical Observatory (AbAO), USSR
F.S. Nazaretian, Yerevan State University (YSU), USSR
A.G. Nikoghossian, Byurakan Astrophysical Observatory (BAO), USSR
G.B. Ohanian, Byurakan Astrophysical Observatory (BAO), USSR
R.T. Pallavicini, Arcetri Observatory, Italy
K.P. Panov, National Astronomical Observatory, Bulgaria
E.S. Parsamian, Byurakan Astrophysical Observatory (BAO), USSR
P.P. Petrov, Crimean Astrophysical Observatory (CrAO), USSR
B.R. Pettersen, University of Oslo, Norway
L. Pigatto, Padova Observatory, Italy
B.J. Reipurth, ESO, Garching, FRG
M. Rodono, Catania, Italy
V.A. Sanamian, Byurakan Astrophysical Observatory (BAO), USSR
R.D. Schwartz, University of Missouri, USA
W. Seitter, Munster University, FRG
N.I. Shakhovskaja, Crimean Astrophysical Observatory (CrAO), USSR
V.S. Shevchenko, Tashkent Institute, USSR
J. Sikorski, Univ. of Gdansk, Poland
G. Szecsenyi-Nagy, Eotvos University, Hungary
A. Terzan, Lyon Observatory, France
H.M. Tovmassian, Byurakan Astrophysical Observatory (BAO), USSR
V. Tsikoudy, University of Ioannina, Greece
M.K. Tsvetkov, National Astronomical Observatory, Bulgaria
A. Tsvetkova, National Astronomical Observatory, Bulgaria
K. Tsvetkova, National Astronomical Observatory, Bulgaria
R.A. Vardanian, Byurakan Astrophysical Observatory (BAO), USSR
S.D. Yakubov, Tashkent Institute, USSR
G.V. Zajtseva, Sternberg Astronomical Institute (GAISh), USSR
V.P. Zalinian, Byurakan Astrophysical Observatory (BAO), USSR
S.V. Zaratsian, Byurakan Astrophysical Observatory (BAO), USSR