Principle of Invariance and its Applications
International Symposium devoted to the 40th anniversary of the Principle of Invariance Introduction to the Radiation Transfer Theory
October 26-30, 1981, Byurakan, Armenia
The symposium was devoted to the 40th anniversary of V.A. Ambartsumian's principle of invariance introduction to the radiation transfer theory. Results of the application of principle of invariance and its development in various fields of modern science were discussed.

Astrophysicists, physicists, mathematicians – representatives of different schools of exact sciences participated in the symposium, confirming the community of importance of the transfer theory for these sciences.

Scientific Organizing Committee (SOC):

Local Organizing Committee (LOC):

Scientific Topics:

There were some prominent scientists among the participants, as S. Chandrasekhar (USA), C.H. Papas (USA), V.V. Sobolev (USSR). Altogether there were 65 participants, including 8 from the Byurakan Observatory, 12 from other institutes of Armenia, 35 from other republics of the Soviet Union, and 10 scientists from 7 foreign countries (USA, Japan, France, Czechoslovakia, Hungary, GDR, and Poland). 46 talks were presented, including 3 invited reviews (by V.A. Ambartsumian, S. Chandrasekhar and V.V. Sobolev), 23 reports on radiation transfer theory and 20 reports on applications to other problems of physics and mathematics. Byurakan astronomers had 8 talks.

Proceedings: Principle of Invariance and its Applications, Proceedings of an All-Union Symposium held in Byurakan on October 26-30, 1981, Ed. M.A. Mnatsakanian & H.V. Pikichian, Academy of Sciences of Armenian SSR, Yerevan 1989, 522 p. (in Russian).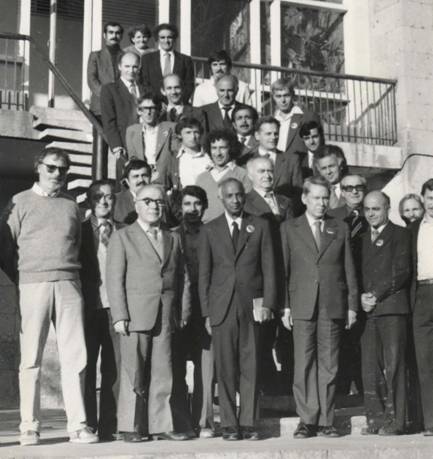 Full List of Participants
Agekian T.A., Leningrad State University (LSU), USSR
Aliev J.S., Shemakha Astrophysical Observatory, Azerbaijan, USSR
Ambartsumian R.V., Institute of Mathematics, Acad. Sci., Yerevan, USSR
Ambartsumian V.A, Byurakan Astrophysical Observatory (BAO), USSR
Antonov V.A., Leningrad State University (LSU), USSR
Chandrasekhar S., University of Chicago, Lab. for Astrophys. and Space Research, Enrico Fermi Institute, USA
Danielian E.Kh., Byurakan Astrophysical Observatory (BAO), USSR
Darbinian R.A., Computing Centre of the USSR Acad. Sci., Novosibirsk, USSR
Dolin A.S., Institute of Applied Physics, Acad. Sci., Gorki, USSR
Domke H., Zentralinstitut Fur Astrophysik, Potsdam, GDR
Ezhov A.A., Branch of the Atomic Energy Institute after I.V. Kurchatov, Moscow region, USSR
Feodorov F.I., Presidium of Acad. Sci., Minsk, Belorussia, USSR
Germogenova T.A., Institute of Applied Mathematics, Acad. Sci., Moscow, USSR
Gharibian G.M., Presidium of Acad. Sci., Yerevan, Armenia, USSR
Gnuni V.Ts., Institute of Mathematics, Acad. Sci., Yerevan, USSR
Grachev S.I., Leningrad State University (LSU), USSR
Grinin V.P., Crimea Astrophysical Observatory (CrAO), Ukraine, USSR
Gussmann E.A., Zentralinstitut Fur Astrophysik, Potsdam, GDR
Harutyunian H.A., Byurakan Astrophysical Observatory (BAO), USSR
Hubeny I., Astronomicky Ustav Ceskolovenske Academia ved Observator, Ondrejov, Czechoslovakia
Ivanov V.V., Leningrad State University (LSU), USSR
Jrbashian M.M., Institute of Mathematics, Acad. Sci., Yerevan, USSR
Klyatskin V.I., Pacific Oceanology Institute, Acad. Sci., Vladivostok, USSR
Kolesov A.K., Leningrad State University (LSU), USSR
Konovalov N.V., Institute of Applied Mathematics, Acad. Sci., Moscow, USSR
Kostanian F.A., Institute of Radiophysics and Electronics, Acad. Sci., Ashtarak, Armenia, USSR
Kuzmina M.G., Institute of Applied Mathematics, Acad. Sci., Moscow, USSR
Loskutov V.M., Leningrad State University (LSU), USSR
Machievski A., Institute of Astronomy, Nicolaus Copernicus University, Torun, Poland
Magnan C., Institut d'Astrophysique, Paris, France
Maslennikov M.V., Institute of Applied Mathematics, Acad. Sci., Moscow, USSR
Matinian S.G., Yerevan Physics Institute (YerPhI), Armenia, USSR
Melikidze G.I., Abastumani Astrophysical Observatory (AbAO), Georgia, USSR
Minin I.N., Leningrad State University (LSU), USSR
Mirzoyan L.V., Byurakan Astrophysical Observatory (BAO), USSR
Mkrtchian A.R., Section of Applied Problems of Physics, Acad. Sci., Yerevan, USSR
Mnatsakanian M.A., Byurakan Astrophysical Observatory (BAO), USSR
Mochov N.V., Institute of High Energy Physics, Serpukhov, USSR
Muradian M.G., Section of Applied Problems of Physics, Acad. Sci., Yerevan, USSR
Muradian R.M., Yerevan Physics Institute (YerPhI), USSR
Nagirner D.I., Leningrad State University (LSU), USSR
Nikoghossian A.G., Byurakan Astrophysical Observatory (BAO), USSR
Paal G., Konkoly Observatory, Acad. Sci., Budapest, Hungary
Papas C.H., Electrical Engineering, California Institute of Technology, Pasadena, USA
Pataraya A.D., Abastumani Astrophysical Observatory (AbAO), Georgia, USSR
Pikichian H.V., Byurakan Astrophysical Observatory (BAO), USSR
Rachkovski D.N., Crimea Astrophysical Observatory (CrAO), Ukraine, USSR
Rogovtsov N.N., Belorussia Polytechnic Institute, Minsk, USSR
Romanova L.M., Institute of Atmospheric Physics, Acad. Sci., Moscow, USSR
Saginashvili M.G., Georgian Acad. Sci., Tbilisi, Georgia, USSR
Sahakian G.S., Yerevan State University (YSU), Armenia, USSR
Shikhov S.B., Moscow Engineering-Physical Institute, USSR
Shirkov D.V., Joint Institute of Nuclear Research, Dubna, USSR
Shulaya D.A., Georgian Acad. Sci., Tbilisi, USSR
Silantev N.A., Physical-Technical Institute after A.F. Ioffe, Acad. Sci., Leningrad, USSR
Skorobogatko V.Ya., Lvov State University, Ukraine, USSR
Sobolev V.V., Leningrad State University (LSU), USSR
Syavavko M.S., Lvov State University, Ukraine, USSR
Tovmassian H.M., Byurakan Astrophysical Observatory (BAO), USSR
Ueno S., Kanazawa Institute of Technology, Japan
Vardanian R.S., Section of Applied Problems of Physics, Acad. Sci., Yerevan, USSR
Vasileva L.T., Leningrad Polytechnic Institute, USSR
Yanovitski E.G., Principal Astronomical Observatory, Goloseevo, Ukraine, USSR
Yengibarian N.B., Section of Applied Problems of Physics, Acad. Sci., Yerevan, USSR
Zweifel P., Virginia Polytechnic Institute and State University, Blacksburg, USA