Evolution of Cosmic Objects through their Physical Activity
International Conference devoted to V.A. Ambartsumian's 100th anniversary
September 15-18, 2008, Byurakan, Armenia
The meeting was devoted to the 100th anniversary of the greatest Armenian scientist Viktor Ambartsumian (1908-1996), whose fundamental discoveries changed our views on the evolution of cosmic objects. This was one (the major) of the events dedicated to the centenary. Another conference "Physics of Compact Objects" in Yerevan, the Second Byurakan International Summer School, and some other events were organized as well. The ArAS VII Annual Meeting was also associated with this conference.

Scientific Organizing Committee (SOC): Halton Arp (Germany), Yuri Balega (Russia), Geoffrey Burbidge (USA, Co-chair), Anatoly Cherepashchuk (Russia), Michael Dopita (Australia), Daniel Kunth (France), Hayk Harutyunyan (Armenia, Co-chair), Jayant Narlikar (India), Sadanori Okamura (Japan), Elma Parsamian (Armenia), Roberto Terlevich (Mexico), Ian Robson (UK), David Sedrakian (Armenia), Yervant Terzian (USA).

Local Organizing Committee (LOC): Haik Harutyunian and Areg Mickaelian (Co-Chairs), Elena Nikoghosyan (Secretary).

As this was a general meeting, all subjects related to V.A. Ambartsumian's scientific achievements were present, including the physics of compact cosmic objects (neutron stars).

Scientific Topics:
Stars and Nebulae
Pulsars / Neutron Stars
Activity in Galaxies
Cosmology
Light Scattering and Radiative Transfer
Miscellanea
The official opening of the meeting took place on September 15 at the presidium of the Armenian National Academy of Sciences (NAS) by the Introductory talk by the President of the Armenian NAS Prof. Radik Martirosyan, followed by a review on Ambartsumian's life and activity by Jean-Claude Pecker (France), several other talks, and the presentation of V.A. Ambartsumian DVD with full information about the great scientist. The scientific sessions took place on Sep 16-18 in Byurakan.

89 scientists from 12 countries (Armenia, USA, Australia, India, Germany, France, Spain, Poland, Israel, Russia, Ukraine, and Georgia) participated, including such famous astronomers as Jayant Narlikar (India), Jean-Claude Pecker (France), Yervant Terzian (USA), Daniel Kunth (France), Richard Lovelace (USA), Bo Reipurth (USA), and others. There were 38 astronomers from BAO among the participants.

Altogether, 36 oral talks and 8 posters were presented, including 11 invited talks related to the fields of V.A. Ambartsumian's main achievements (by Bo Reipurth, Yervant Terzian, Davit Sedrakian, Haik Harutyunian / Areg Mickaelian, Richard Lovelace, Daniel Kunth, Igor Karachentsev, Martin Lopez-Coredoira, Jayant Narlikar, Vladimir Grinin, and Arthur Nikoghossian).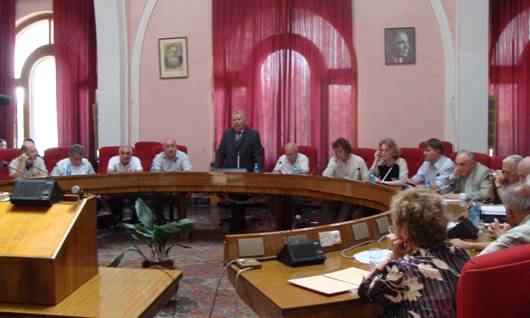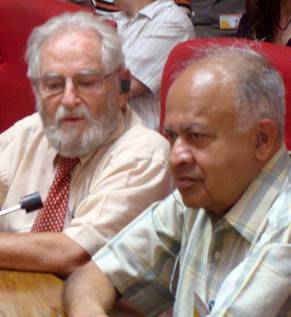 Full list of participants

Adibekyan, Vardan, Yerevan State University (YSU), Armenia
Alecian, Georges, Observatoire de Paris - CNRS, France
Amirkhanian, Arthur S., Byurakan Astrophysical Observatory (BAO), Armenia
Amirkhanian, Vladimir, Sternberg Astronomical Institute (SAO), Russia
Andreasyan, Ruben R., Byurakan Astrophysical Observatory (BAO), Armenia
Asatrian, Norair S., Byurakan Astrophysical Observatory (BAO), Armenia
Avakian Robert, Yerevan State University (YSU), Armenia
Avakian Roland M., Yerevan State University (YSU), Armenia
Avetisian, Ara K., Yerevan State University (YSU), Armenia
Baier, Frank Werner, Galerie des Universums, Germany
Balayan, Smbat K., Byurakan Astrophysical Observatory (BAO), Armenia
Biernacka, Monica, University of Kielce, Poland
Chavushyan, Hovsep S., Byurakan Astrophysical Observatory (BAO), Armenia
Chilingarian Yuri S., National Academy of Sciences (NAS), Armenia
Chubarian Eduard V., Yerevan State University (YSU), Armenia
Danieljan, Eduard, Germany
Djidjian, Robert, Israel
Dodonov, Serguey N., Special Astrophysical Observatory (SAO), Russia
Eghikian Anahit G., Byurakan Astrophysical Observatory (BAO), Armenia
Eghikian, Ararat G., Byurakan Astrophysical Observatory (BAO), Armenia
Erastova, Lidia K., Byurakan Astrophysical Observatory (BAO), Armenia
Eritsian, Misak H., Byurakan Astrophysical Observatory (BAO), Armenia
Gigoyan, Kamo S., Byurakan Astrophysical Observatory (BAO), Armenia
Gyulbudaghyan, Armen L., Byurakan Astrophysical Observatory (BAO), Armenia
Gyulzadyan, Marieta V., Byurakan Astrophysical Observatory (BAO), Armenia
Hagen-Torn, Vladimir, St-Petersburg State University, Russia
Hakobian, Ashot A., Byurakan Astrophysical Observatory (BAO), Armenia
Hakopian, Susanna A., Byurakan Astrophysical Observatory (BAO), Armenia
Hambaryan, Valeri V., Astrophysikalisches Institut Potsdam und Universitats-Sternwarte Jena, Germany
Harutyunian, Anahit, Yerevan State University (YSU), Armenia
Harutyunian, Haik A., Byurakan Astrophysical Observatory (BAO), Armenia
Hovhannessian, Rafik Kh., Byurakan Astrophysical Observatory (BAO), Armenia
Hovhannisyan, Julietta B., Byurakan Astrophysical Observatory (BAO), Armenia
Iskudarian, Sofik G., Byurakan Astrophysical Observatory (BAO), Armenia
Israelian, Garik L., Instituto de Astrofisica de Canarias (IAC), Spain
Ivanova, Nina L., Byurakan Astrophysical Observatory (BAO), Armenia
Javakhishvili, Gia, Abastumani Astrophysical Observatory (AbAO), Georgia
Kalloghlian, Arsen T., Byurakan Astrophysical Observatory (BAO), Armenia
Karachentsev, Igor D., Special Astrophysical Observatory (SAO), Russia
Karachentseva, Valentina, Main Astronomical Observatory, Ukraine
Karapetian, Artur A., Byurakan Astrophysical Observatory (BAO), Armenia
Karapetian, Emilia, Yerevan State University (YSU), Armenia
Kasimova, Ekaterina, Rostov State University, SAO, Russia
Kazarian, Misha A., Yerevan State University (YSU), Armenia
Khachikian, Edward Ye., Byurakan Astrophysical Observatory (BAO), Armenia
Kiladze, Rolan I, Abastumani Astrophysical Observatory (AbAO), Georgia
Kochiashvili, Nino, Abastumani Astrophysical Observatory (AbAO), Georgia
Kostandyan, Gayane, Byurakan Astrophysical Observatory (BAO), Armenia
Krikorian, Ralph, Institut d'Astrophysique de Paris (IAP), France
Kunth, Daniel, Institut d'Astrophysique de Paris (IAP), France
Lominadze, Jumber G., National Academy of Sciences, Georgia
Lopez-Coredoira, Martin, Instituto de Astrof?sica de Canarias (IAC), Spain
Lovelace, Richard, Cornell University, Ithaca, NY, USA
Magakian, Tigran Yu., Byurakan Astrophysical Observatory (BAO), Armenia
Mahtessian, Abraham P., Byurakan Astrophysical Observatory (BAO), Armenia
Malumian, Vigen H., Byurakan Astrophysical Observatory (BAO), Armenia
Martirosyan, Jaklin R., Yerevan State University (YSU), Armenia
Martirosyan, Radik M., National Academy of Sciences (NAS), Armenia
Melikian, Norair D., Byurakan Astrophysical Observatory (BAO), Armenia
Mickaelian, Areg M., Byurakan Astrophysical Observatory (BAO), Armenia
Moret-Bailly, Jacques, Universite de Bourgogne, France
Movsessian, Tigran H., Byurakan Astrophysical Observatory (BAO), Armenia
Nagirner, Dmitrij, St. Petersburg State University (SPbSU), Russia
Narlikar, Jayant, Inter-University Centre for Astrononmy and Astrophysics (IUCAA), India
Natsvlishvili, Rezo, Abastumani Astrophysical Observatory (AbAO), Georgia
Nikoghossian, Arthur G., Byurakan Astrophysical Observatory (BAO), Armenia
Nikoghossyan, Elena H., Byurakan Astrophysical Observatory (BAO), Armenia
Parsamian, Elma S., Byurakan Astrophysical Observatory (BAO), Armenia
Pecker, Jean-Claude, Academy of Sciences of France, France
Petrosian, Artashes R., Byurakan Astrophysical Observatory (BAO), Armenia
Petrosyan Gohar, Yerevan State University (YSU), Armenia
Pikichian, Hovhannes V., Byurakan Astrophysical Observatory (BAO), Armenia
Popov, Sergey, Sternberg Astronomical Institute (SAI), Moscow, Russia
Pozanenko, Aleksei, Space Research Institute (IKI), Moscow, Russia
Reipurth, Bo, Institute for Astronomy, University of Hawaii, USA
Sadoyan, Avetis A., Yerevan State University (YSU), Armenia
Saharian, Aram A., Yerevan State University (YSU), Armenia
Sanamian Vagharshak A., Byurakan Astrophysical Observatory (BAO), Armenia
Sargsyan, Lusine A., Byurakan Astrophysical Observatory (BAO), Armenia
Sarkissian, John (Hovhannes), Parkes Radio Observatory, CSIRO, Australia
Sedrakian, Armen D., Tьbingen University, Germany
Sedrakian, Davit M., Yerevan State University (YSU), Armenia
Shakht, Natalia, Main Astronomical Observatory, Pulkovo, Russia
Shukurian, Yuri H., National Academy of Sciences (NAS), Armenia
Sinamyan, Parandzem K., Byurakan Astrophysical Observatory (BAO), Armenia
Spurzem, Rainer, Universitat Heidelberg, Germany
Terzian, Yervant, Cornell University, Ithaca, NY, USA
Vartanyan, Yuri L., Yerevan State University (YSU), Armenia
Yeghiazaryan, Anahit A., Byurakan Astrophysical Observatory (BAO), Armenia