Second Byurakan International Summer School for Young Astronomers: Practical Astrophysics
Devoted to V.A. Ambartsumian's 100th anniversary
September 20-30, 2008, Byurakan, Armenia
The Second Byurakan International Summer School was organized jointly by BAO and ArAS. The School was devoted to Prof. V.A. Ambartsumian's 100th anniversary and was linked to Ambartsumian's Centennial meetings (conference in Byurakan and conference in Yerevan), so that the students also might participate in the corresponding events before the school.

International Organizing Committee (IOC): Don Barry (USA), Michel Dennefeld (France), Dieter Engels (Co-Chair, Germany), Haik Harutyunian (Armenia), Daniel Kunth (France), Areg Mickaelian (Co-Chair, Armenia).

Local Organizing Committee (LOC): Areg Mickaelian (Chair), Lusine Sargsyan (Secretary).

Main topics:
Ground-based telescopes and modern observational techniques
Space Telescopes and Space Missions
2D spectroscopy
Computers for Astronomy: Astronomical Data Reduction
Archives, Databases and Virtual Observatories
Studies of Planets, Stars, Nebulae, and Galaxies by various methods
Astronomical Surveys and Future Giant Projects
Altogether, 13 lecturers from 5 countries (Armenia – 7, USA – 2, Australia – 1, Germany – 2, and France – 1) and 31 students from 9 countries (Armenia, Russia, Ukraine, Georgia, Germany, Italy, Poland, Romania, and Jordan) participated in the school (16 students from Armenia and 15 foreign ones). 18 lectures and 4 practical exercises were given. Among the lecturers, there were such famous scientists as Daniel Kunth, Dieter Engels, and Lev Titarchuk. The students gave 7 short presentations as well.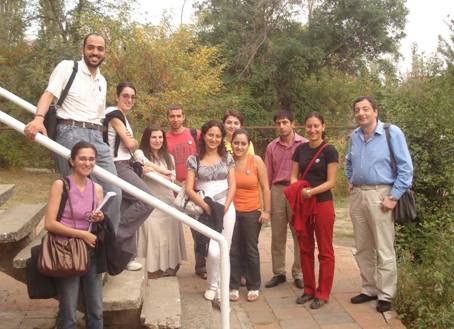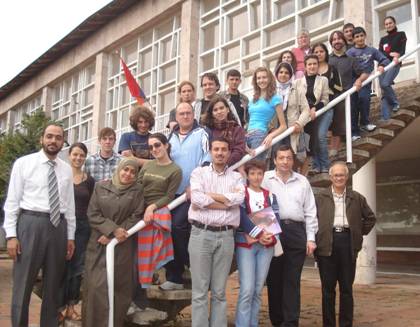 List of the Lecturers

Arshakian, Tigran G., Max-Planck Institute fьr Radioastronomy, Germany
Barry, Don, Cornell University, Ithaca, NY, USA
Engels, Dieter, Hamburger Sternwarte, Germany
Harutyunian, Haik A., Byurakan Astrophys. Obs. (BAO), Armenia
Kunth, Daniel, Inst. d'Aastrophysique de Paris, France
Magakian, Tigran Yu., Byurakan Astrophys. Obs. (BAO), Armenia
Mickaelian, Areg M., Byurakan Astrophys. Obs. (BAO), Armenia
Movsessian, Tigran H., Byurakan Astrophys. Obs. (BAO), Armenia
Petrosian, Artashes R., Byurakan Astrophys. Obs. (BAO), Armenia
Sadoyan, Avetis A., Yerevan State Univ. (YSU), Armenia
Sargsyan, Lusine A., Byurakan Astrophys. Obs. (BAO), Armenia
Sarkissian, John (Hovhannes), Parkes Radio Observatory, CSIRO, Australia
Titarchuk, Lev, GMU / NRL / GSFC, USA

List of the Students

Abrahamyan, Hayk, M.Sc. student, YSU / BAO, Armenia
Baghramyan, Nelly, B.Sc. student, YSU, Armenia
Buntemeyer, Lars, M.Sc. student, University of Hamburg, Germany
Bunzel, Felix, M.Sc. student, University of Hamburg, Germany
Bura, Cotizo, Ph.D. student, Babes-Bolyai Univ., Romania
Chesnok, Nadya, Ph.D. student, Kyiv National Univ., Ukraine
Dalee, Hani, Ph.D. student, Al Al-Bayt University, Jordan
Egorov, Oleg, Ph.D. student, Moscow State University, Russia
Farhan, Ahlam, Ph.D. student, Al Al-Bayt University, Jordan
Gevorgian, Mkrtich, M.Sc. student, YSU / BAO, Armenia
Ghazaryan, Satenik, M.Sc. student, YSU / BAO, Armenia
Harutyunyan, Artak N., Ph.D. student, BAO, Armenia
Hovhannessian, Elena R., Ph.D. student, BAO, Armenia
Hovhannisyan, Lilit, Ph.D. student, BAO, Armenia
Kakabadze, Levan, Tbilisi State University, Georgia
Kasimova, Ekaterina, Rostov State Univ., SAO, Russia
Kochiashvili, Ia, Tbilisi State University, Georgia
Kostandyan, Gayane, Ph.D. student, BAO, Armenia
Martirosyan, Araqs, B.Sc. student, YSU, Armenia
Maryeva, Olga, M.Sc. student, Stavropol State Univ., Sao, Russia
Mohammadpour, Maedeh, Ph.D. student, University of Bologna, Italy
Paronyan, Gurgen, Ph.D. student, BAO, Armenia
Petrusevska, Tanja, M.Sc. student, University of Trieste, Italy
Piloyan, Arpine, Ph.D. student, YSU, Armenia
Poghosyan, Emiliya, B.Sc. student, YSU, Armenia
Rożek, Agata, M.Sc. student, Adam Mickiewicz Univ., Poland
Sargsyan, David, M.Sc. student, YSU / BAO, Armenia
Taani, Ali, Ph.D. student, Al Al-Bayt University, Jordan
Tovmasyan, Murad, B.Sc. student, YSU, Armenia
Tovmasyan, Narek, B.Sc. student, YSU, Armenia
Turshujyan, Hermine, B.Sc. student, YSU, Armenia